The Answer Is a Question
Paperback
Author:

Laura Ashley-Timms and Dominic Ashley-Timms

Publisher:

TSO (The Stationery Office)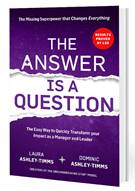 The New Approach to Management Being Used in Over Forty Countries
"For any leader or manager in business, you need this! It has truly changed the way I think about leadership, for the better!" -
Nick Pointe
"I have transformed the way I communicate. One of the best investments in career learning that I've made. It serves as a daily guide to my success as a manager." - Fadinding Darboe, London School of Hygiene & Tropical Medicine
"STAR® has had a major impact on how I operate as a professional, it has completely changed the way I work, giving me the knowledge and skills to develop on a personal perspective and to develop my team." - Carl Drinkel, Senior Quality Engineer, Hitachi Rail
With ever-increasing workloads, demanding schedules, and growing instability, it's little wonder that our stress levels are rising whilst employee engagement everywhere is miserably low. The world has changed and impacted how we work, yet our management models have not kept pace; we're still trying to manage as we always have-by simply taking on more and more.
But what if instead of bringing your problems every day, those you work with started generating the solutions themselves?

What if your team could step up and take work off you so that you got 20 percent of your time back?

What if making one small change could transform not only your team's engagement levels but also your career?
In The Answer Is a Question, multi-award-winning performance consultants Dominic and Laura Ashley-Timms set out a simple approach for rehumanising the practice of management.
In a step-by-step walk-through of their ground-breaking STAR® model (used by FTSE and Fortune 500 companies), they'll show how you can develop a new superpower that's been proven to work by the London School of Economics and Political Science (LSE) in a major academic study across sixty-two organisations.
This book is produced in stunning full colour and provides invaluable insights, examples, and mini-missions that will show you precisely how to make some immediate changes that will yield fast and exciting results and revolutionise how you manage forever.
This isn't another post-pandemic management guide contemplating the nuances of remote work. The Answer is a Question is the distillation of hard-won insights into actionable, measurable steps.
The Missing Superpower That Changes Everything And Will Transform Your Impact As A Manager And Leader.
"I'm really surprised at how powerful these approaches are. I underestimated how much I still had to learn about developing people. I have taken away techniques to help in both my personal life as well as my professional life." - Jen Booker, HR Manager, Dennis Eagle Ltd
"I found the STAR® model really useful. I was never comfortable in managing people, but changing my mindset to see it as a coaching opportunity really opened my eyes and helped me and the business develop." - Jack Cooledge, Bespoke Drywall Ltd
"However well you think you know yourself and however good your management style is this helps you to find areas for improvement. It will help not just you but the people around you to become better empowered" - Helen Freeman, University of Exeter
"I gained more confidence in asking powerful questions and engaging employees in different activities. This helped me achieve my own objectives and become more effective as a manager overall." - Monika Wujciow, Continuous Improvement Manager, AB World Foods