British Pharmacopoeia 2020
New, legally enforced standards, available from 1 August 2019. All European Pharmacopoeia texts included.
Updated annually, the British Pharmacopoeia (BP) is the only comprehensive collection of authoritative official standards for UK pharmaceutical substances and medicinal products.
It includes approximately 4,000 monographs which are legally enforced by the Human Medicines Regulations 2012. Where a BP monograph exists, medicinal products or active pharmaceutical ingredients sold or supplied in the UK must comply with the relevant monograph.
All monographs and requirements of the European Pharmacopoeia (Ph. Eur.) are reproduced in the BP, making the BP a convenient and fully comprehensive set of standards that can be used across Europe and beyond.
New for the BP 2021
The BP 2020 supersedes the BP 2019 and becomes legally effective on 1 January 2020. This edition incorporates new monographs from both the BP and Ph. Eur. along with a significant number of revised monographs.
Read more...
35 new BP monographs, 53 new Ph. Eur. monographs
331 amended BP monographs
All monographs from the Ph. Eur. 10.0 are included
Ph. Eur. supplements 10.1 and 10.2 included as in-year online and download product updates
Concise guide on how to use the BP. Helping you to comply with the BP, navigate more effectively and follow formulated product monographs
Timeline functionality and cleaner design helps you find the information you need. Easily see updates, withdrawals and omissions of monographs. Archive subscribers can now identify all previous editions of BP and Ph. Eur., through the improved navigation
We're releasing 16 new BPCRS to coincide with the new and revised monographs in the BP 2020. This means that you can order the new chemical reference standards alongside the BP 2020 – helping you comply with the new standards by January 2020. Browse our BPCRS catalogue.
Key customer groups
CORPOATE
The BP is a must have for suppliers and sellers of active pharmaceutical ingredients and medicinal products in the UK. For corporate pharmaceutical organisations to develop high-quality medicinal products in compliance with regulations, the BP 2020 features a variety of important monograph updates providing users with the information they need to maintain compliance. This helps mitigate against any issues supplying or selling products later on.
Key corporate customers include: Pharmaceutical researchers and manufacturers, chemists, biotechnologists, quality assurance and quality controls inspectors, laboratory technicians and regulatory bodies.
Flexible options for single and multiple users are available for the BP Online.
ACADEMIC
Specialist researchers and lecturers in the field of pharmacy, biological science, biochemistry and pharmaceutical science can use the BP for research into medicinal products using the most up-todate monographs.
Flexible options and discounts are available for our academic customers.
The complete package is a great value-for-money option including:
A six-volume printed edition, including the BP (Veterinary) 2020
A single-user online licence* for BP Online
A single-user download for offline use*
Other formats and bundles are available to ensure you get the best value access to the information you need.
Add the BP Archive option to your standard package and receive online access to all the BP editions from 2014 to date. The Archive is a useful tool that enables you to switch between different versions of a monograph by publication to help users track what's changed.
Online users can also choose to add the British Approved Names (BAN) 2017 & Supplement No.3 to their package, gaining easy access to this useful reference source of medicinal substance names.
*Single-user licences are granted solely to one designated holder. Multi-user licences are available.
British Pharmacopoeia 2020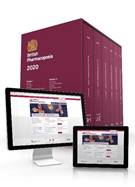 All monographs and requirements of the European Pharmacopoeia (Ph. Eur.) are reproduced in the BP, making the BP a convenient and fully comprehensive set of standards that can be used across Europe and beyond.
Available formats:
Single-user licences and packages
Single user access to the BP online is available from www.pharmacopoeia.com. Various package options that include BAN and the BP Archive are available.
Visit the BP website to purchase single-user licence options
Multi-user licences
Cost-effective multi-user licences that are tailored to an organisation's needs are available if online access for more than one user is required.
These licences give simultaneous access online to the full text of the BP 2020 edition and can be used on workstations, laptops and other portable devices.
Specially discounted rates are offered to academic institutions.
For more information on these licences, call or email our dedicated team:
British Approved Names (BAN) 2022